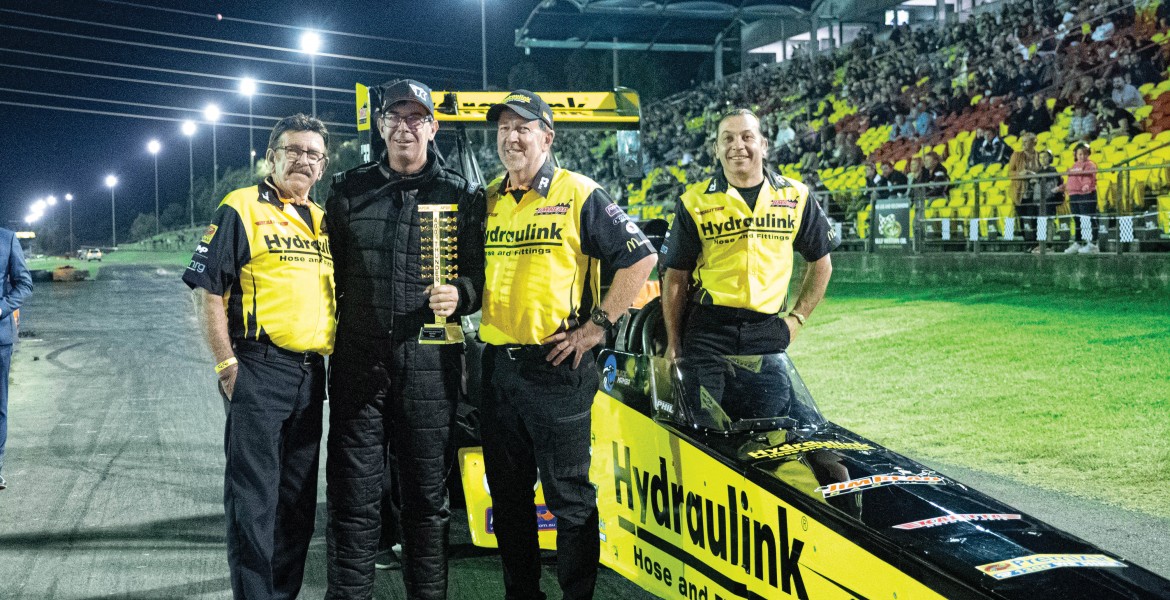 Contractor Hydraulink's winning Jim Read Racing Team
Nov 11, 2021, 1:09 PM
Hydraulink's winning Jim Read Racing Team
The Hydraulink-sponsored Jim Read Racing team has added another trophy to its cabinet with a dramatic win at the 2021 Gulf Western Oil Nitro Thunder event.
The Hydraulink top fuel dragster, driven by Jim Read's son Phil, came up against experienced drag racer Peter Xiberras in the final. Xiberras had consecutively beaten two personal bests in the lead-up to the final, achieving 3.797/315MPH (about 507 km/h) and was looking unstoppable.
In a last-minute twist, both cars rattled the tyres out of the gate and had to frantically pedal to the finish line, with Read getting the upper hand, in what he described as a "Stephen Bradbury style victory".
The event was the penultimate round of the 400 Thunder championship for all brackets ahead of next month's Winternationals, and after a tough year full of Covid disruptions, Phil Read was delighted to be back out on the track.
"It's been a great weekend with such an awesome crowd in attendance. I really wanted to win this event for the Hydraulink franchisees who are here today. They've been so supportive of us whilst racing was suspended over the last year due to Covid. If you want to finish first, first you have to finish. The last race with Peter Xibberas just showed how much both of us wanted the win, and I'm glad I could do it for the Hydraulink franchisees," he said.
aulink Australian National Franchise Manager Wayne Abbott said: "Hydraulink had 40 people, including franchisees and customers, witness Jim Read Racing's dramatic win. They learnt a lot about how the Hydraulink Top Fuel Dragster team works together. The Jim Read Racing team performed 'Best Under Pressure', just like the Hydraulink franchisees do when it comes to fast and reliable 24/7 mobile hydraulic hose and fitting repairs.
The event spectators included mechanics from the automotive, diesel and heavy plant industries who typically make outstanding franchisees within the Hydraulink network.
Hydraulink is expanding its network of more than 400 service points throughout Australia, New Zealand, Pacific Islands and the Western United States, drawing interest from areas as diverse as Kalgoorlie in the goldfields of Western Australia, the Marlborough vineyards of New Zealand, and the rapidly expanding site of Sydney's second new airport at Badgery's Creek, which, by itself, will create tens of thousands of jobs and involve massive infrastructure, earthworks, roads, transport and heavy machinery demand.
Covid has made many people think more about securing their future financial independence. "Owning a franchise where you can be your own boss, and where you're backed by the resources and support of the Hydraulink network is highly appealing to people with mechanical aptitude and ambition for success," says Mr Abbott.
"Familiarity with a broad range of machinery, from agricultural to earthmoving to road and civil, to forestry and more is certainly an advantage, but we're looking particularly for motivated, ambitious individuals with strong ethics. We can always teach the right people the right skills," he said.
Hydraulic service specialist Hydraulink supplies hydraulic hoses, fittings, adaptors and accessories to major industrial markets in Australia and New Zealand, including construction and infrastructure, roads and earthworks, civil engineering, mining, energy, oil and gas, agriculture, materials handling, manufacturing, rental industry, transport and machinery servicing, handling machinery, waste management recycling machinery, and safety.