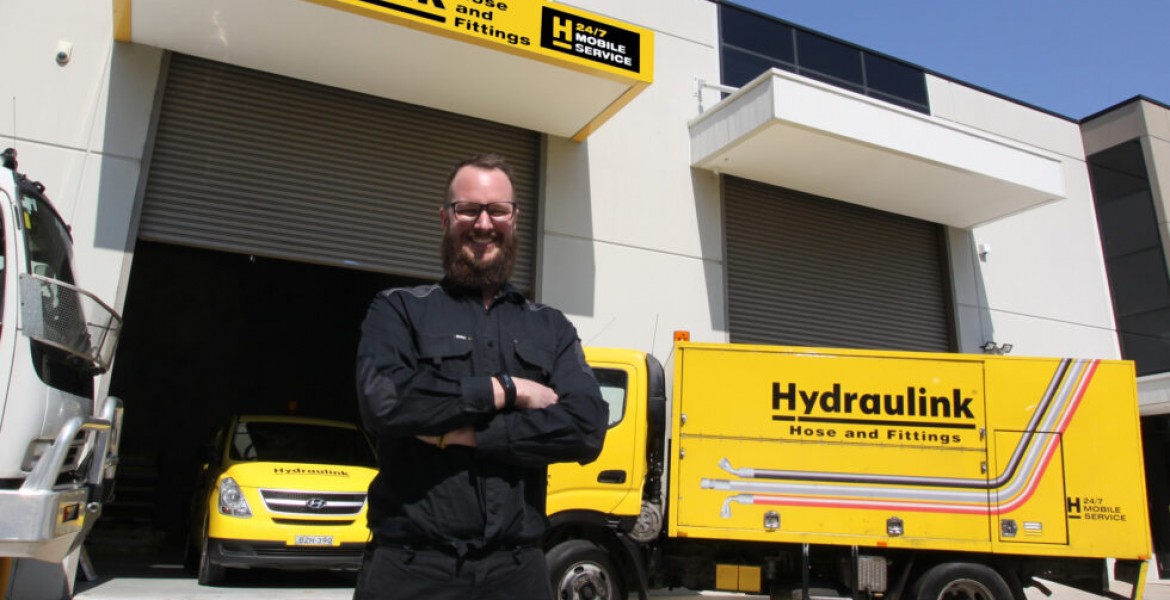 Hydraulink evolves its franchise model to inspire more pathways for individual success
Mar 15, 2022, 2:36 PM
Hydraulink National Franchise Manager, Wayne Abbott discusses the changes Hydraulink has made to its franchise model to allow greater flexibility, provide stronger support, and inspire confidence in franchisees.
Franchise models typically take one of two routes – a full-service model with everything provided, or a more economical turnkey solution. Whilst full-service models often require large upfront investments, the Hydraulink Franchise model provides flexible turnkey solutions and the tools to succeed at a more modest investment. Hydraulink's options have been specifically and thoughtfully designed to focus on providing lots of individual parts that are useful to the franchisee.
Hydraulink then provide the guidance on how to connect all of these individualised component parts, and what to do next, once you've joined their franchise team. This is where Hydraulink has sought to separate itself from the pack – in its evolved franchise model.
As a leading hydraulic hose, fittings, and associated service organisation, with more than 400 service points across Australia, New Zealand and the Pacific Islands, Hydraulink has refreshed its franchise model to provide every franchisee with the best chance of success.
Hydraulink shows franchisees how all the parts fit together and provides assistance with everything from finding property and vehicles, to setting up finance, providing safety training, helping with insurance, providing strategies to launch your business and everything in between.
Hydraulink aims to provide franchisees with the support and tools they need – to not only succeed, but also to continue to expand and thrive. This leads to multi-site and long-term franchisees with the opportunity for future family generations to take over the business. Unlike other offerings, Hydraulink provides a strategic plan for every step of the process, from pre-opening through to ongoing support once the business is up and running.
The move is part of a larger organisational plan, as Hydraulink focuses on franchise expansion. Hydraulink entered the market in Australia in 2001, after becoming a market leader in New Zealand, where it began in 1945. Building on its success in New Zealand, the business initially used a dealer and distributor model in Australia. As a business new to the country, that strategy made sense at the time, but now that Hydraulink has expanded to cover almost every corner of Australia, it's the franchise model that allows for both greater expansion and greater success in the future. All whilst bringing its tight-knit network of franchises closer together, so that everyone grows together and succeeds together. You might say that in the Hydraulink Franchise model, "when the tide rises, all the boats float."
Adapting to Franchise code changes
The aim is to be as easy as possible to deal with, so, as part of Hydraulink's evolved franchise model, the organisation has updated its practices to ensure compliance with the new Franchise Code. Simple explanations of complex terms are provided with contracts and paperwork to assist prospective franchisees to understand exactly what it all means.
Hydraulink isn't looking for a particular person who fits a particular box. Instead, they've opted to customise terms to suit each franchisee's unique requirements and individual situation. When it comes to success, Hydraulink understands that one size doesn't fit all.
Franchisees for Hydraulink come from diverse walks of life – from aircraft engineers to underground miners, to experienced business operators from totally different industries. Being mechanically minded is certainly advantageous – and diesel, plant or automotive mechanics regularly make outstanding franchisees. However, as long as the individual is motivated, driven and embodies the Hydraulink "can do" attitude, there's always an opportunity to work with them to set up a franchise that best suits their needs and lifestyle. "This ensures individuals who are interested in a Hydraulink franchise have more autonomy, more control over their future, more freedom than a regular job, and the ability to spend time enjoying the things that matter most in their life."
Competitive fees, and ongoing training and support
One of the ways Hydraulink has sought to differentiate itself from other franchise models is through its competitive low fee and support structure. Hydraulink does not charge a Marketing Levy and instead, incentivises franchisees to invest in business development, growth plans and marketing tools that suit their business and their local area. Active and experienced national marketing support is fully included, and franchisees are encouraged to capitalise on this to support the progression of their business.
There are also performance-based incentives to further encourage franchisees to keep growing, expanding, and succeeding as part of the Hydraulink network.
To provide new and existing franchisees with all the tools they need to run a successful business, Hydraulink has invested in an impressive in-house training program named Hydraulink Academy. This specialised training provides product, technical and safety courses, as well as courses on sales, administration, stock control, and operations, so that every aspect of the business can be optimised.
This ongoing support includes not only nationally accredited units, but also helps demystify the franchise process, and inspires confidence – optimising results from franchisees.
Taking the next step – evolving a franchise
Entrepreneurs are rarely satisfied after one success, so the evolution of the Hydraulink Franchise model includes a pathway to assist motivated franchisees to continue to expand their businesses. The Hydraulink pathway allows franchisees to progress from being an individual Mobile franchisee, right through to a multi-site Hose Centre franchisee.
Hydraulink uses advanced modelling, mapping, and demographic research to identify the best areas for franchise opportunities across all stages. Plus, franchisees are given support and encouraged to own their own assets along the way, including vehicles, buildings, and stock. This means, at the end of their career, they have built up their personal inventory and set themselves up with a succession plan for a comfortable retirement, or a tangible asset to pass on to the next generation. For however long someone is with Hydraulink, there is a desire to ensure they are better off for having been with the company.
Hydraulink's intention with its evolved franchise model is that all new franchisees will be so successful that they become "lifers" and stay with the business for the rest of their career. Of the business' current dealer and franchise network of more than 150 companies, the average tenure is around 10-15 years with an extremely low turnover. This showcases the dedication network members have to the company, as well as how well they feel supported throughout their journey.
Some Hydraulink network members have now arrived at a stage where they are looking at succession planning and bringing in a second generation to take over the family business.
So, for mechanically minded, motivated, and driven individuals seeking a new franchise, Hydraulink encourages you to ask yourself – do you want a one-size-fits-all, franchise-in-a-box model? Or, do you want a customisable, flexible franchise that you can drive – one that you can scale up throughout your career, and one that comes with ongoing training and support along the way?
For franchise enquiries, please contact Wayne Abbott, National Franchise Manager – Hydraulink Australia, Ph: 0455 478 699, wayne.a@hydraulink.com.au Or visit www.joinhydraulink.com to discover franchise opportunities near you