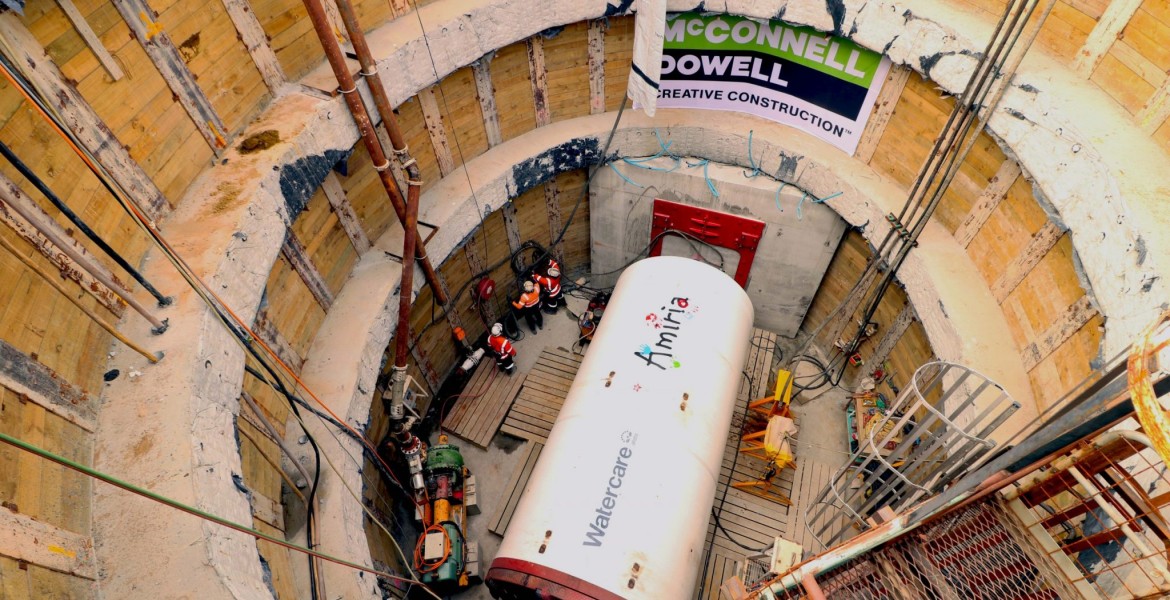 Hydraulink optimises pipe safety for McConnell Dowell's Watercare record length project
Nov 23, 2020, 2:34 AM
Hydraulink optimises pipe safety for McConnell Dowell's Watercare record length project
The Hunua 4 watermain project, commissioned and managed by Watercare Services Ltd, is a 31km pipeline through South and Central Auckland to help meet growing demand, increase the system's capacity, ensure uninterrupted supply, and provide resilience to natural disasters.
Watercare, an Auckland Council-controlled organisation, engaged McConnell Dowell to design and construct Section 11, the final section of the pipeline, from Market Road to the Khyber Pass Reservoir.
A strong emphasis was placed on minimising disruption to communities along the pipeline route.
Using mainly micro-tunnelling methods, McConnell Dowell constructed a 3.5km watermain using a tunnel boring machine (TBM) to drive and install 2,500mm ID jacking pipes between six shafts, before lining the tunnel with a 1,575mm OD steel pipe.
The pipe jacks are the longest ever completed in New Zealand. McConnell Dowell recently (July 2020) celebrated the completion of the second drive of Section 11.
McConnell Dowell's TBM broke through at Khyber Pass Rd, setting a record of 1,216 metres for the longest single drive in the southern hemisphere by a TBM greater than 3 metres diameter.
McConnell Dowell utilised a world-class TBM from Germany – a 55-tonne Herrenknecht – to excavate the 3m diameter tunnel required. To minimise community disruption, 80% of the pipeline construction was trenchless, and McConnell Dowell selected an alternative pipeline route that moved construction away from residential areas and ecologically sensitive sites.
Hydraulink has more than 400 service outlets throughout New Zealand, Australia, and Pacific Islands, which bring essential hydraulic hose, fittings and safety-compliant and traceable service expertise to industries requiring prompt, quality 24/7 service either on or off site.
Hydraulic hoses are like the arteries of the system – if they don't work properly, the whole thing shuts down, and that causes costly downtime, delays and throws the whole project timeline out.
Problem solving expertise in tough conditions
The completed pipe jack was 1,216m, so in order to achieve the distance required for this project, McConnell Dowell utilised a series of ten intermediate pushing stations (interjacks), placed approximately 100m apart, to push the pipe gradually in a series of cycles.
Using a pipe jacking system allowed McConnell Dowell to reduce the amount of surface excavation for trenches. While it involved greater engineering, it was vital to this section of the project, because it ran under the busy Khyber Pass Road, which averages 30,000 vehicles each day.
At its deepest sections, the tunnel runs close to 30m underground – a similar height to the region's famous Hunua Falls, part of the Wairoa River that travels through an ancient volcano as it meanders north through Clevedon, before meeting the Hauraki Gulf.
Difficult geotechnical conditions, ranging from very hard basalt to soft clays created further challenges, reinforced the need for world-class technologies to be employed.
Additionally, underground hydraulics and components needed to have a low flame and high flash point* to minimise fire hazard risks. (*The flash point indicates how easily a chemical or substance may burn. Materials with higher flash points are less flammable or hazardous than chemicals with lower flash points.)
Now that the second drive is complete, McConnell Dowell has progressed to the third and final stage of Hunua 4 Section 11 – a 1,296m drive under Manukau Rd – which is scheduled to be completed in late 2021.