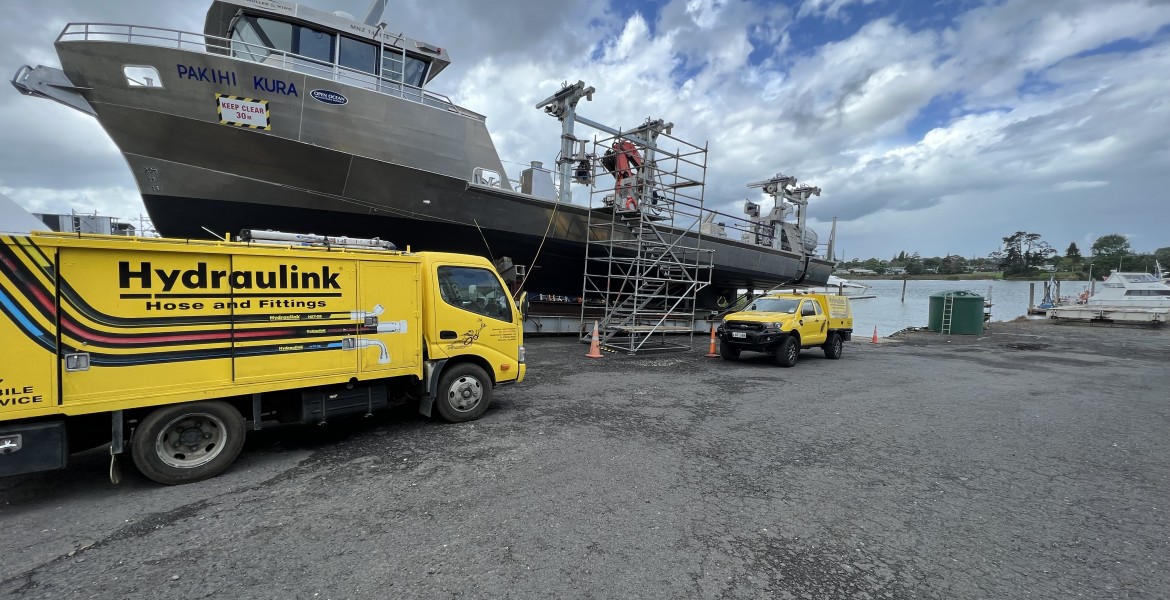 McMullen & Wing masterpiece of marine engineering entrusted to safety and performance of Hydraulink hose and fittings
May 16, 2023, 2:58 PM
A new 30m mussel harvesting vessel purpose-built by McMullen & Wing to withstand the most challenging sea conditions encountered in New Zealand's Bay of Plenty has entered service equipped with Hydraulink hose and fitting kits for optimum safety and reliability.
The aquaculture vessel Pakihi Kura was built for Whakatōhea Mussels by McMullen & Wing drawing on the boat yard's 55+ years' experience building and servicing commercial vessels and yachts for both the domestic and international markets. The vessel design was a collaborative effort between Oceantech Design, who provided the preliminary design including styling, naval architecture, geometry, structural, stability and performance calculations, and McMullen & Wing, who took the preliminary design and developed the workshop drawings required to execute the build.
The single-screw vessel, constructed from marine grade aluminium, has the capacity to carry up to 105 tonnes of product on deck, whilst maintaining a service speed of 10-12 knots thanks to the 969kW Caterpillar C32 main engine. Additionally, a 280kW Caterpillar C9.3 auxiliary engine powers the extensive hydraulic systems.
"One of the key factors in choosing McMullen & Wing was the ability to design our vessel with features to meet the unique and challenging operating conditions experienced in our region," said Peter Vitasovich, Chief Executive of Whakatōhea Mussels. "This was critical to ensuring a strong partnership in both the design and build of our new vessel."
The company's 3,800ha offshore farm lies 5km off the coast of Opōtiki and is capable of producing 20,000 tonnes of mussels annually – one fifth of the current total New Zealand industry production. During storm conditions, the richly productive area has measured peak wave heights of over 15m, with average wave heights over 9m for extended periods.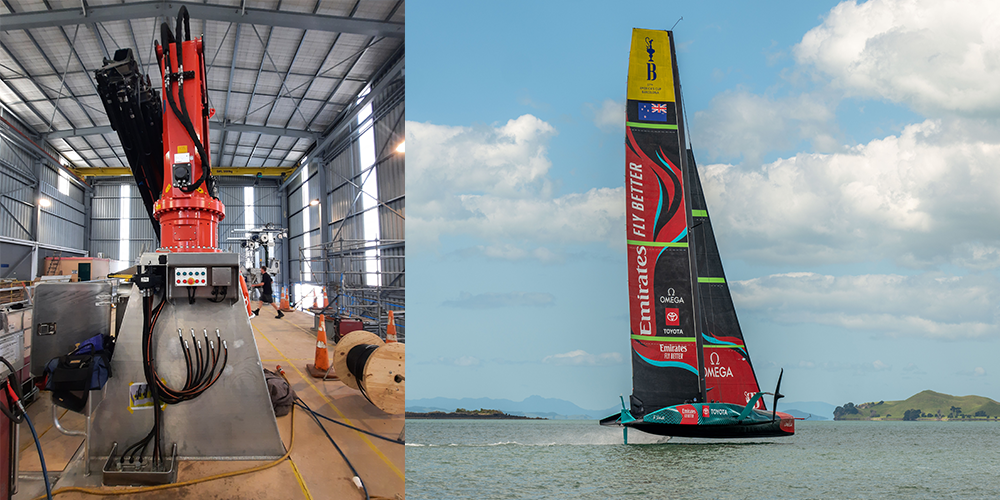 So the safety and comfort of the crew were a priority consideration for McMullen & Wing, who were ideally equipped to answer the challenge with their history of building seagoing super yachts and extremely hardy work boats," said Hydraulink Area Manager, Craig Jenkins.
McMullen & Wing's marine expertise was complemented by its partner Hydraulink's own expertise as the supplier of hydraulic hoses and fittings for the ultra-fast 2021 America's Cup challenge in which all competitors, including the winning Emirates Team New Zealand, used a hydraulically actuated foil cant system to raise boats clear of the waves as the 6-7 tonne AC75 yachts hit top speeds between 40 and 50 knots depending on conditions in the Hauraki Gulf.
"A top class hydraulic system is critical to the operation and safety of any mussel farming vessel – and McMullen & Wing's hydraulic fitout for Pakihi Kura is a masterpiece," says Jenkins. "They mapped out the working spaces beautifully to provide easy and swift access for hydraulic installations and service to ensure optimum safety and reliability for the many hydraulic systems on which the vessel depends. Their forethought will pay dividends in terms of system uptime, reliability and safety over years and years to come."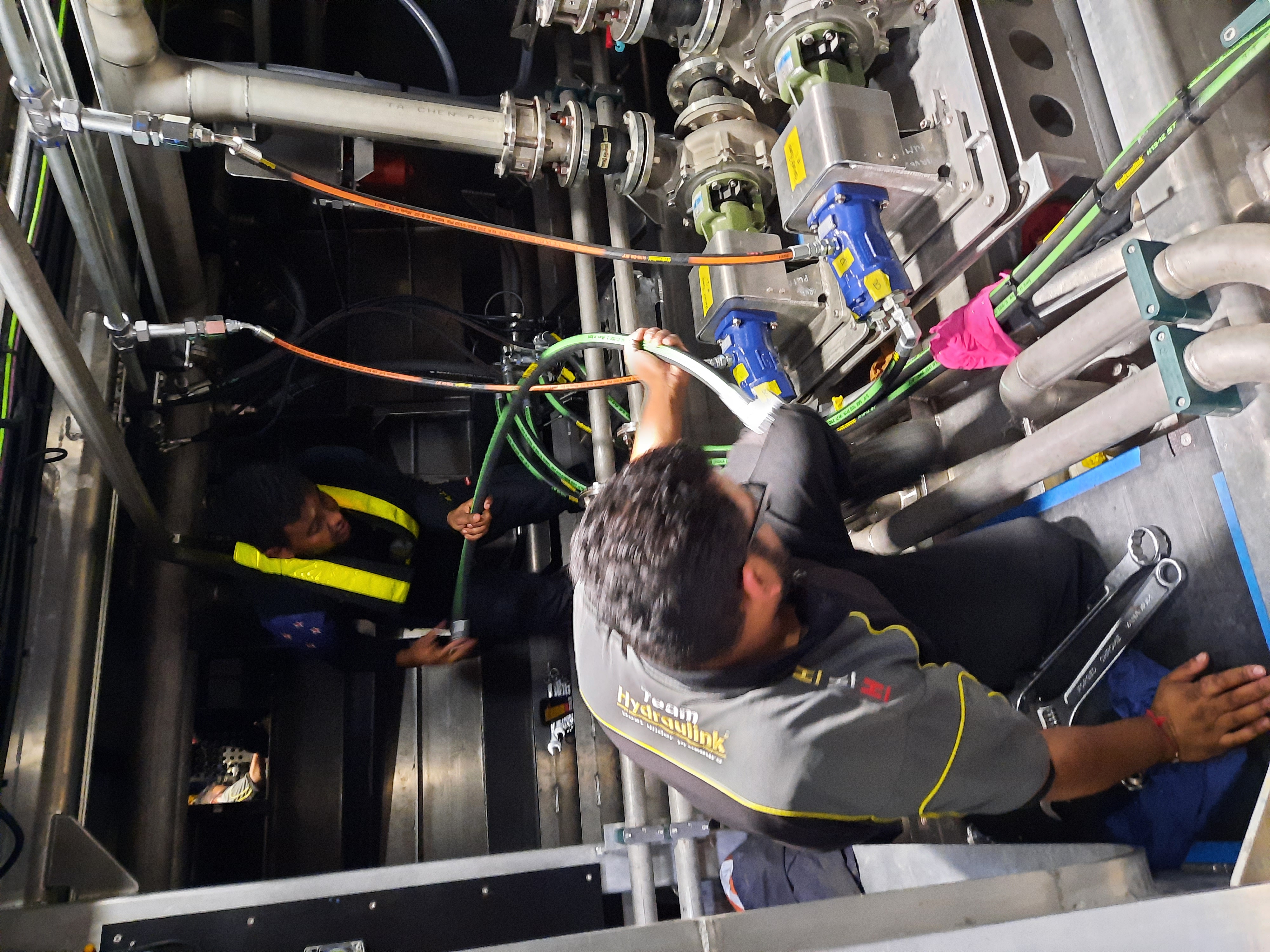 McMullen & Wing Technical Manager Jeff Porter said the collaborative hydraulic system design by Dana Brevini and McMullen & Wing builds on the successful features of another vessel in Whakatōhea Mussels' fleet, Kukutai, and results in functionality tailor-made for a challenging environment.
"It is a unique design with features that are particularly suited to work boats in many marine environments, including marine transportation, fishing, energy exploration, and other tasks where seaworthiness, manoeuvrability and lifting, loading, and unloading capability are at a premium."
The vessel's main deck features a large crane mounted on a fabricated aluminium plinth along with four davits used for handling the mussel lines, plus a line tensioning winch and the mussel harvesting equipment.
The Palfinger PK33002 (M) E folding crane has a maximum outreach of 16m, enabling it to reach anywhere on the vessel. It has a lift capacity of 2,000kg at 9.5m, enabling the crew to offload two 1 cubic metre bulk bags of mussels at a time on to the dock.
The crane features continuous slewing, without any blind spots, so it can be centrally located, adding flexibility to crane operations. The crane is fitted with Palfinger's electric control system (ECS) featuring electrically operated emergency cutoff and electro hydraulic overload.