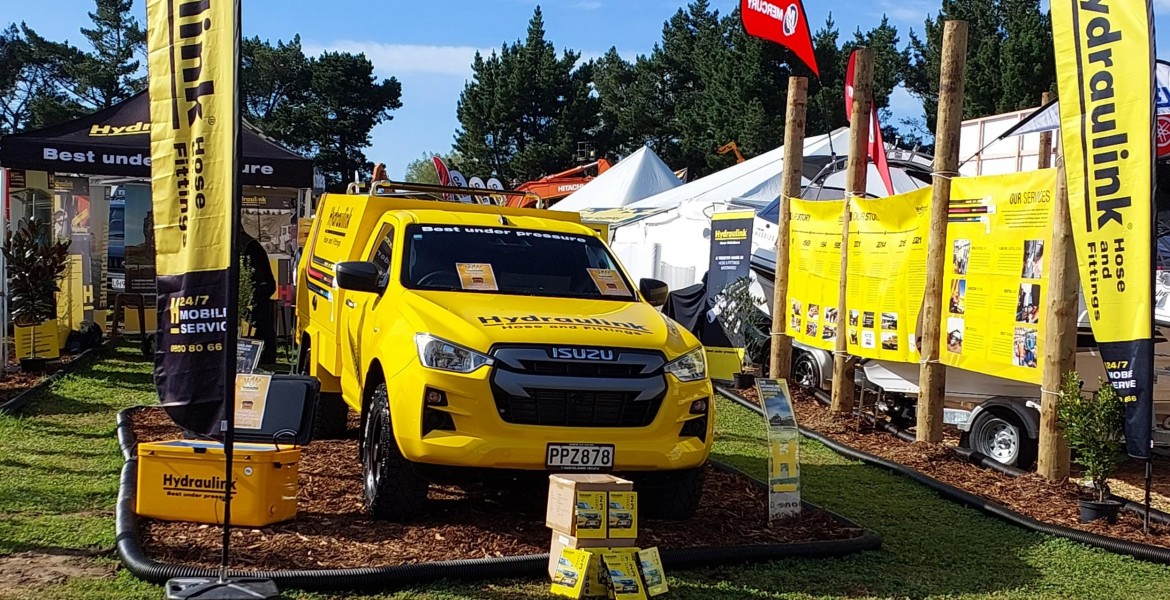 New Hydraulink service vehicles and OEM kits introduced to NZ's largest regional agricultural eventNew Blog Post
Jun 16, 2023, 12:59 PM
New timesaving and safety-enhancing service vehicles, and OEM kits for mobile and static machinery were introduced by Hydraulink to New Zealand's largest regional agricultural event, the Central Districts Field Days.
The new model mobile service vehicle from the hose, fitting and service group was one of the star attractions of the Hydraulink stand during the Field Days, which typically attracts more than 500 exhibitors and 30,000 visitors over three days.
Hydraulink – which operates through more than 400 service points across New Zealand, Australia, and the Pacific Islands – displayed its expertise in speedily delivering essential, safety-compliant hydraulic hose, fittings, and mobile services, including:
Hydraulink's latest model

mobile service vehicle

, which is, in effect, a mobile hydraulic hose workshop for industries needing on-site service to minimise maintenance time and maximise uptime and safety for machinery operating on farms, construction, civil engineering, forestry, horticulture, materials handling, transport and resources sites. Highly skilled, trained, and knowledgeable Hydraulink technicians operate a fleet of vehicles, including 4-wheel drives, to provide 24/7 service and hydraulic hose repairs to enhance the safety of rural and busy industrial sites nationwide. Operating under the market signature "best under pressure," Hydraulink's

24/7 quick response mobile service vehicles provide emergency

hydraulic hose repairs

as well as being well-equipped to respond to industry's increasingly varied and often unique field service demands.
OEM hose and fitting kits supplied by Hydraulink to machinery manufacturers for use simply, safely, and efficiently at time of assembly. Hydraulink provides readymade sets of hoses and fittings which are:

Tailor-made to length required for particular applications

Meet the OEM specifications for each application

Individually labelled so customers' assembly line personnel can simply and easily fit a set of pre-made hoses to their new machine during its assembly and production
As a quality hose supplier, Hydraulink offers hose kits that remove labour and waste material costs from the OEM's manufacturing process, while ensuring safety and precision of componentry for optimum reliability for end-users. Working from four locations around New Zealand, Hydraulink manufactures hose kits for use in a variety of industries including agriculture, transport, waste management, marine, earthmoving, materials handling, mining, and access equipment.
"Attending Field Days events round the country is, for Hydraulink, all about building relationships and demonstrating commitment to hose and fitting excellence," says Hydraulink Area Sales Manager Geoff Gurr.
The Central Districts Field Days is a landmark event for displaying technology and machinery innovations relevant to major industries in the rich agribusiness region around Feilding and the Manawatu.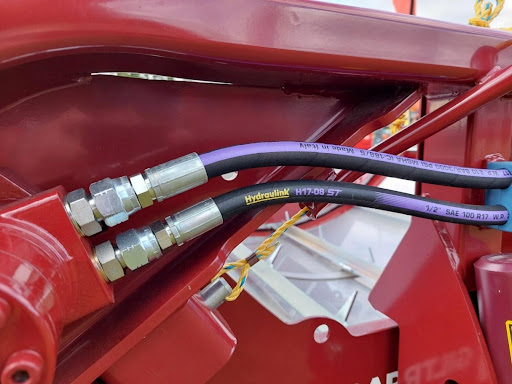 "Catching up with end-user customers attending the event – and showcasing our OEM capabilities, and quality to those working on the land – is part of demonstrating our commitment to ensuring the safety, value, and reliability of the machinery for which we supply hose kits."
"We find most within our farming community who buy locally manufactured capital equipment like to know which local service businesses stand beside the OEM business they purchase from. Our farmers are proud Kiwi businesses, just as Hydraulink is."