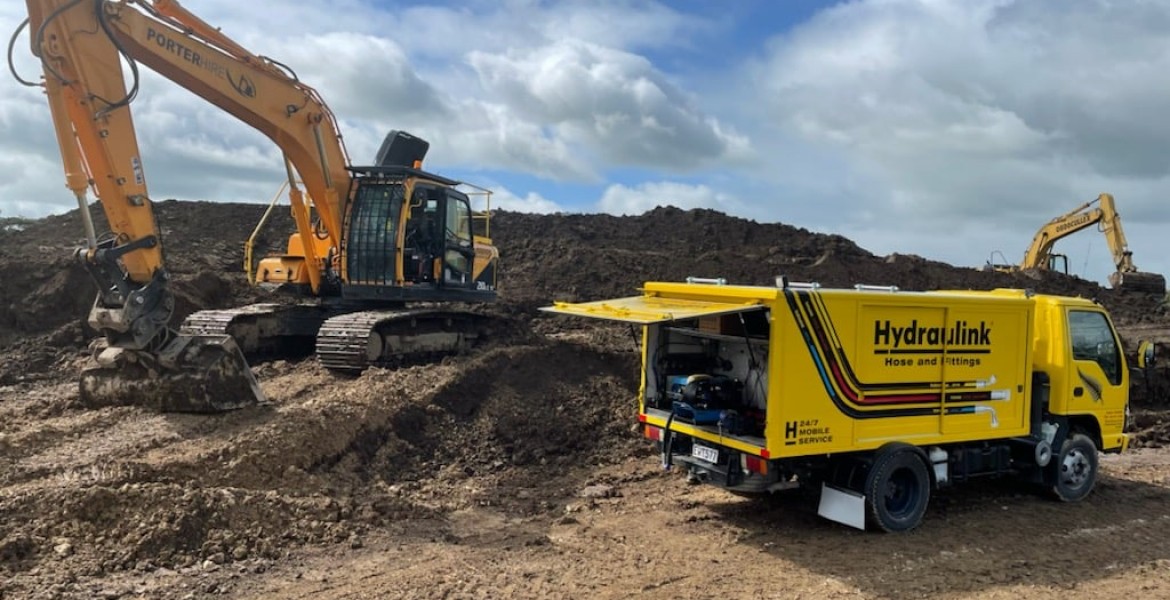 The Most Common Causes Of Hydraulic Hose Failure & How To Avoid Them
Feb 8, 2023, 11:36 AM
What Is Hydraulic Hose Failure, And Why Should We Care?
Hydraulic fittings and high pressure hoses are frequently neglected parts of hydraulic maintenance. They are a vital aspect of ensuring that your machine is being operated in a coherent and safe manner. If hydraulic fluid is the driving force of your machinery, hydraulic hoses are the arteries of the system - holding and orchestrating the pressure to do its work.
It is important to keep in mind that hydraulic hoses can be quite dangerous if they are carelessly maintained. Critically impaired hydraulic fittings and high pressure hoses are major causes of accidental injection, which can ultimately result in severe harm and injuries to workers. With that being said, if you are after a hose repair service, it is crucial that you get in touch with your local Hydraulink hydraulic repair specialists. Our sales and service technicians are equipped with the essential training and knowledge required to diagnose and fix many common hydraulic maintenance issues.
Common Causes Of Hydraulic Hose Failure And How To Spot Them
The improper assembly of your hydraulic high pressure hose is a common cause of hydraulic hose failure. If the hydraulic hose fittings are not crimped and fastened adequately, high operating pressure can rapidly disclose this as a limitation. Such instances can result in leaking hydraulic hose fittings as well as blown hoses.
Surpassing Minimum Bend Radius
Hydraulic high pressure hoses can be quite flexible and have their limitations. Once the minimum bend radius has been surpassed, warps, crimps, and blockages can occur, which can undoubtedly over pressurise the hose and give rise to a blow-out failure. Even the slightest undue bend radius can generate an erode point in a machine where vibrations can be enhanced.
Hydraulic hose abrasion is a very common cause of hydraulic hose failure, particularly in extreme working environments where machines are expected to carry out thousands of cycles each and every day. It is inevitable that hoses that do come in contact with any machine surfaces will experience some shape of abrasion. As time goes by, this can have an impeding impact on the integrity of the high pressure hose. In due course, the hose cover will decompose, uncovering the reinforcement layers, whereby the hydraulic hose will no longer be fit for use.
How Can You Prevent Hydraulic Hose Failure From Occurring?
Hoses Must Be Cleaned & Flushed
When hoses are trimmed to size, they must attentively be cleaned and flushed. This is to prevent any contamination from abrasive debris that is left behind during the cutting process. Any corrosive debris that is left behind in the hose can have the chance to pollute the hydraulic system, leading to small fractures that damage the inner tube of the hose assembly.
Pay Attention To The Bend Radius Of The Hydraulic Hose
To avoid any problems during use relating to the hydraulic hose's bend radius, it is important to view the specifications of the hose carefully. When purchasing a hose, check the detailed technical parameters to ensure that you are buying the hose that best suits your application, and this will eliminate failures during use.
Prevent The Hydraulic Assembly From Overheating
In order to prevent the hydraulic assembly from overheating, the application temperature of the hose should be inspected. Ensure that the rated temperature of the high pressure hose links up with the demands of the application temperature. It is recommended to minimise the ambient temperature or utilise a hose protective sleeve. Each of these aspects can help in protecting the hose from high temperature environments.
Do You Require Emergency Repairs For Your High Pressure Hose or Hydraulic Fittings? Contact The Team At Hydraulink Today!
When your hydraulic fittings or high pressure hose encounter problems onsite, it can make for a stressful and unproductive period that makes it difficult for your business to fulfil its obligations. However, Hydraulink has developed an extensive network of technicians, with more than 400 service points across the region, to ensure your machinery is operational for as long as possible.
Whether your business operates within the mining, agriculture, transport, forestry or marine industry, fast, effective and reliable hose and hydraulic services are a must. That's why we've developed a nationwide 24-hour mobile service dedicated to resolving the hydraulic problems your machinery faces, you'll never be left to fix these problems alone.
With an industry-leading training program, you can be sure that your Hydraulink Sales and Service Technician will find the right solution for your machinery every time.
If you'd like to ask any questions to find out more about the services we provide and the products we offer, don't hesitate to reach out to our friendly team on 0800 80 66 66, or send us a message HERE.