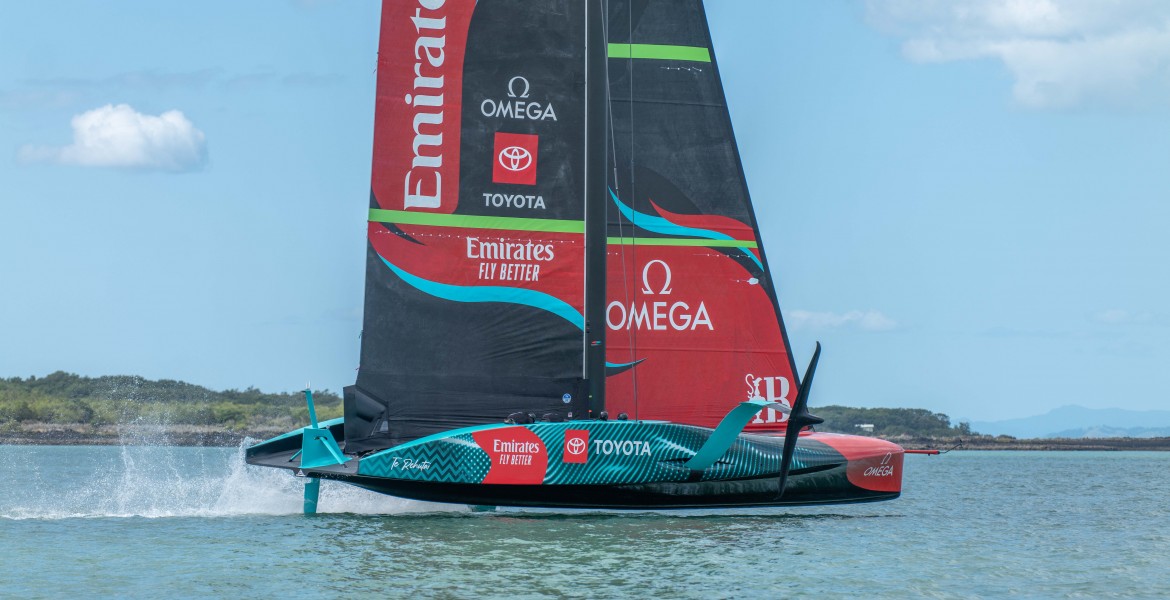 Emirates Team New Zealand's pedal-power sailors look to Hydraulink for a leg up towards 2024 America's Cup
Jun 23, 2023, 3:38 PM
Australasian hydraulic hose, fitting, and services specialists Hydraulink will again provide hydraulic hose kits to smoothly transfer power needed to operate control systems of the 2024 America's Cup yachts – including new pedal-powered systems.
Kiwi-owned Hydraulink – which provided hose assemblies for the Foil Cant System (FCS) hydraulics for all syndicates in the 2021 event in Auckland – is now working again with the Emirates Team New Zealand's 36th America's Cup winning yacht Te Rehutai as it is being used as a development boat for the 2024 event in Barcelona.
OPTIMISING HOSE ASSEMBLIES FOR NEW "CYCLORS"
One of Hydraulink Fluid Connectors (HFC) early tasks was to engineer optimally efficient and robust hose assemblies to transfer the energy generated by the "Cyclor" pedal-powered Hydraulic system that will replace manual grinding in 2024. Cyclors will provide the hydraulic power for the boat control systems, including control of the soft wing mainsail, foils and rudder functions.
"The inclusion of Cyclors is one of the big changes for Barcelona 2024. So, providing high-performance hose assemblies that will match the higher flows and pressures generated from the Cyclor lines is one of our first priorities as we, once again, partner with Emirates Team New Zealand in the long leadup to the event," said HFC Product Manager Garth Woodhouse.
"We also provided hydraulic hose assemblies for the FCS fluid lines for all the challengers in the last America's Cup, including the victorious Te Rehutai, so we are delighted to be selected again to supply all syndicates the fluid line assemblies for the FCS again".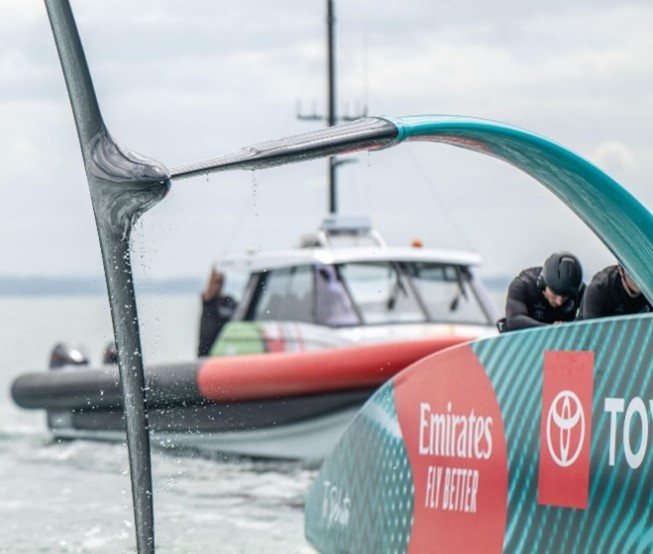 "Our industrial work throughout New Zealand and Australia – including mining, civil engineering, marine, materials handling, transport, and heavy diesel machinery – also gives us huge experience in specifying high-performance fluid conveying products that meet the demands of world-class precision hydraulics.
Emirates Team New Zealand official suppliers Hydraulink Fluid Connectors (HFC), is using the 2023-24 testing programme to develop and refine high-performance hose assemblies for the pedal powered boat control systems that will replace manual grinding in 2024
"It's no secret that athletes' legs deliver much more power than arms, so we have been working closely with the Emirates Team New Zealand team as they use Cyclors to optimise team performance, with crews cut from 11 to 8, as mandated for the 2024 Challenge," said Woodhouse.
"We believe that because they will have three fewer crew, all 2024 cup entrants may use Cyclors. It is essential, therefore, that we design hose assemblies that will reduce the lines losses and transfer as much power as is possible into the boats' hydraulic systems," said Woodhouse, whose enthusiasm for the America's Cup task is backed by HFC Directors and yachting enthusiasts, Lee Short and Noel Davies. Since 1995 Hydraulink has been an official supplier to Emirates Team New Zealand for successive Americas Cup campaigns. Emirates Team New Zealand has won four America's Cup campaigns since 1995 and is the most successful Auld Mug winning nation of the 21st Century.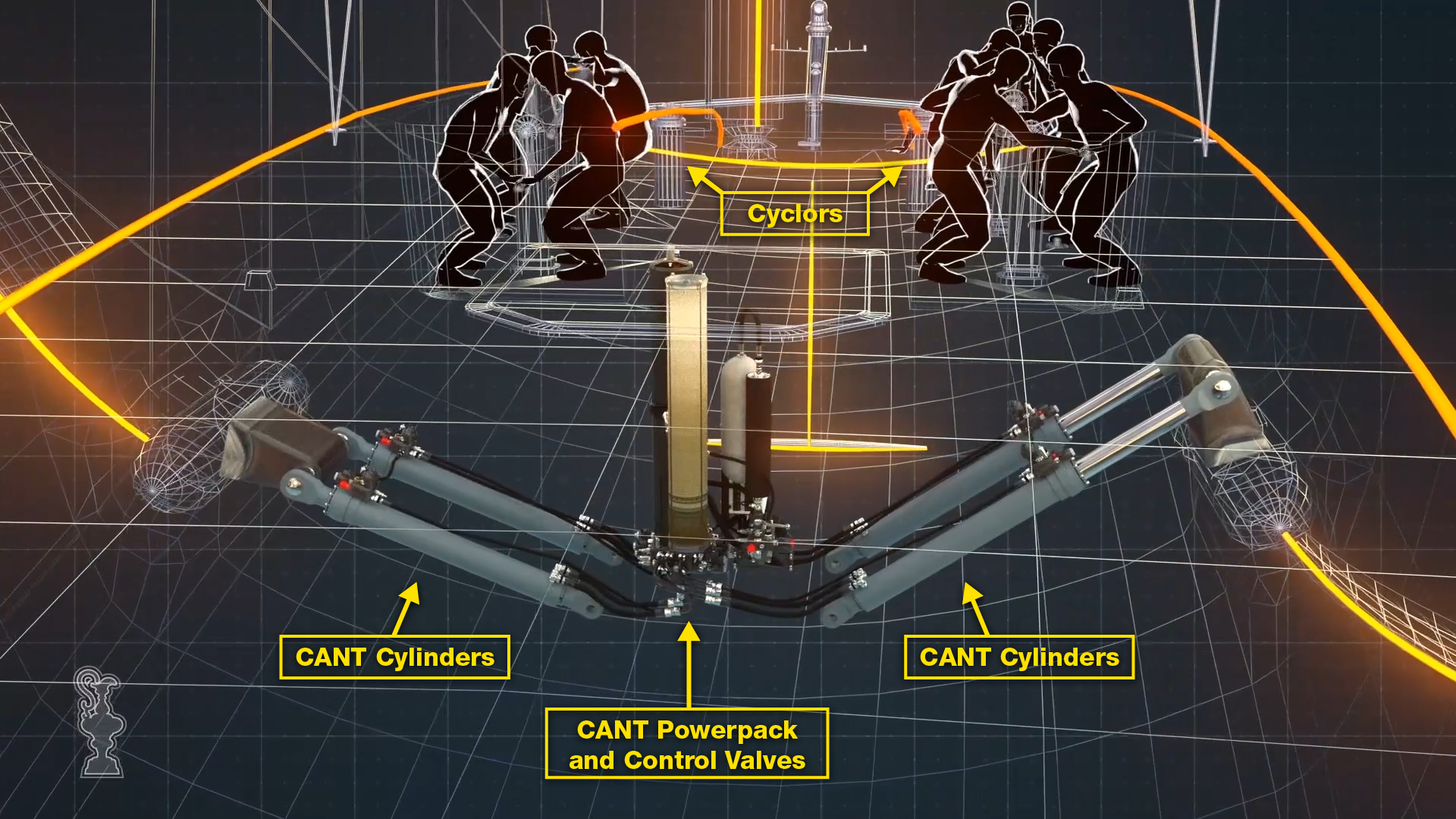 FOIL CANT SYSTEMS
Hydraulink will also provide, for all syndicates, the hose assemblies in 2024 for the "Foil Cant System" used to raise/lower the foil arms to exploit the outstanding skills of closely matched crews and brilliant designs as the new yachts fly clear of the water at top speeds of over 50 knots, depending on conditions.
The Foil Cant System – which provides the boats with the leverage they need to stay upright – is powered by a 48Volt HPU unit for optimum safety. Both the Foil Cant hydraulic system and the Cyclor boat control system use the same precision hydraulic power that is integral to all heavy industrial equipment in which Hydraulink is involved in servicing throughout Australasia, ranging from draglines, bulldozers, earthmoving equipment, cranes, forklifts, draglines, big trucks, agricultural, logistics, warehousing, transport, and construction equipment.
"Of course, there are big differences between the power output of human legs and the big diesel motors used in big machinery, but the principle is the same, so we have to ensure our kits transfer the optimum amount of hydraulic power available. This is vital," said Lee Short.
The Kiwis debuted Cyclors during the 2017 America's Cup, using cyclists pedalling stationary bikes to replace traditional grinders to power the hydraulic systems for trimming sails and controlling the foils on their 50-foot catamaran. That was just one of several technological breakthroughs that helped propel Emirates Team New Zealand to a stunning upset of two-time champion Oracle Team USA in Bermuda.
NO ROOM FOR ERROR IN HIGH-TECH VENTURES
Along with work on the AC75 (75 foot monohull America's Cup yachts), Hydraulink is also involved in developing & supplying the Hydraulic fluid lines for eleven, AC40 class boats which will eventually be used for the Women's and Youth teams regattas preceding the Cup.
Lee Short and fellow Director Noel Davies say involvement in high-tech ventures with no room for error reinforces the company's top safety and reliability focus.
"Whether you are out on the water, the racetrack or in the workshop and worksite, reliable hydraulics are fundamental to hard work and high performance.
Without hydraulics, industries cannot function. And most industries today are highly competitive and racing against the clock to optimise output," said Lee Short, whose company's corporate signature is "Best under pressure".
"Hydraulics help provide the tools for this job, and we are proud to be involved in that. But the real tribute goes to the Emirates Team New Zealand designers, crews and organisers who work for years in advance to make the 2024 AC75 class of foiling monohulls the astounding spectacle it will be," says Lee Short.